AMRUTBHAI NAIK 1940 – 2008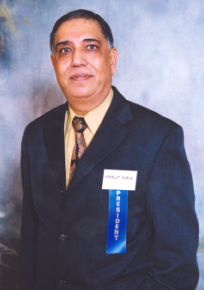 It is difficult to say exactly what we will miss most about our dear friend …
Will it be his throaty laugh that brightened the darkest of rooms? Will it be his tireless dedication to friends and family? Will it be the sense of civic duty that imbued his every action?
What is certain is that the late Amrutbhai Naik (1940-2008) will be missed dearly. He is survived by his loving family – wife Sarla, daughters Sneha & Rachna and by his greatest joys, granddaughters Maya and Kiran. He also leaves behind an enormous group of people who have been lucky enough to call him their friend. Indeed, Amrutbhai's lasting legacy will be the hard work and exemplary leadership he provided to our community – the number of lives he touched in just 67 all-too-short years is a testament to his greatness.
Even as a child in Kachholi, Amrutbhai demonstrated many of the qualities that would later make him a community leader. Along with childhood friend C.N. Naik, he ran the local cricket team and organized gujarati plays and performances during local festivals. His natural inclination towards leadership continued into college, where as an Economics Major at V.S. Patel University, Amrutbhai headed the student council, serving as General Secretary. Many remember that among the many social events he organized, his biggest coup was recruiting Bollywood star Balraj Sahani to perform at a campus function.
Even in adult life, Amrutbhai continued to be something of a renaissance man. Before moving to Canada in 1969, he worked for the Department of Tourism in Gujarat. Upon immigrating to Canada, he took up a post as a security guard in Toronto for the Bank of Nova Scotia. Through diligence and talent, he progressed within the company and worked for most of his life as a systems analyst. When he retired in 2005, spending 40 years with the company, he had attained the post of VP, Systems Control. He did all this while raising 2 bright, successful daughters with his loving wife Sarla – without a doubt, the balance he struck between work and family was something we can all aspire to replicate.
What most of us will best remember about Amrutbhai was his dedication to our community. He took on a leadership role – building, growing, organizing, maintaining and leading the Indian community in Toronto. In the late 1970's, he was the seminal force behind the first meetings of the Anavil community. In addition to leading this fledgling group, he was also involved in the Brahmin Samaj, FOGA and the Sanatan Mandir. He held various positions of responsibility, ranging from Secretary to Board Member to President. In fact, he was the founding member and first President of the Anavil Samaj of Canada. This was the very post he held until his last day. Of special note is that Amrutbhai's level of commitment did not decrease as he grew older. If anything, his final years were those in which he was most active. For instance, after retirement, he volunteered his time helping the elderly through programs sponsored by the Government of Ontario. In this vein, we would do well to emulate his shining example.
In saying this, we return to the original question – What will we miss most about this loving husband, caring father, trusted friend and inspirational leader? Simply, we will miss HIM. It is hard to imagine that our youth will ever find a finer mentor or that our elderly will ever find a more caring advocate. We can only hope to honor his memory by exemplifying the same ideals and energy that made him our community's most trusted cornerstone.
Written by Amrutbhai's long time friend Surendra (S.K.) Desai. February 7, 2008